Mark Beaman gives FiftyShadesOfGreyFan.Org a taste of what blending wines with E L James was like, where her only rule from the start was: no Chardonnay or Cabernet Sauvignon, and nobody gets hurt!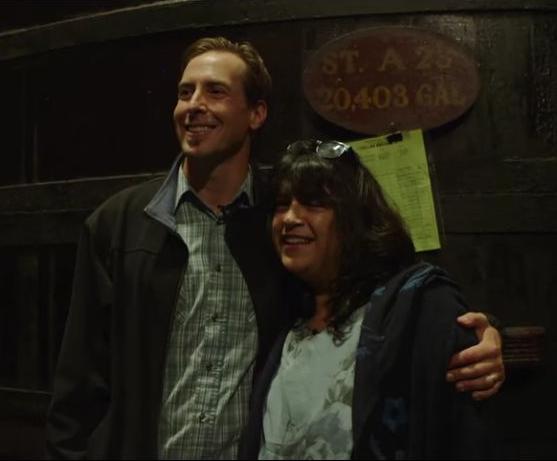 Mark Beaman and E L James Gaze Into A Bright FSOG Future
Blending the Wines
Beaman worked closely with "Erika" to establish respectful nods to the Alsace and Sancerre mentioned in the FSOG books (he read all three!) for the floral White Silk, and to create a savory, masculine flavor for the Red Satin using Syrah and Petite Sirah as a solid base.
Beaman also discusses the remarkably thoughtful process of creating the Fifty Shades of Grey wines--how the books' themes and the personalities of the characters affected blending choices, and the extent of E L James' involvement, which was substantial: "She is a woman who knows what she likes and she provided commentary and direction where she felt the wine needed to go."
Adding to Success?
The FSOG wines have enjoyed "phenomenal" success: any chance there will be additions to the line, Mark? "That is up to Erika and to some extent up to the fans and consumers... If enough people ask for it we would do our best to honor if she wanted to add to the lineup."
Hmmm.... could that addition perhaps be a FSOG Champagne??
"We would of course call it a "sparkling wine" in respect to our friend's region in France... I love the idea though, since there is never a bad time to have a glass of bubbles and Christian and Ana frequently enjoyed it."
Oh, well. For now, we can continue to enjoy the fruits of Beaman and James' labor with FSOG White and Red Silk:
About FIFTY SHADES OF GREY WINE
Fifty Shades of Grey Wine is inspired by the seductive relationship between Anastasia Steele and Christian Grey in the hit series Fifty Shades of Grey. The collection includes Red Satin and White Silk, sure to send your taste buds on a thrilling adventure. Personally crafted by world famous author E L James, the Fifty Shades of Grey Wine Collection is a perfect blend of naughty and nice.
News
Recent Posts
March 17, 2016

March 5, 2016

February 11, 2016

February 2, 2016

October 14, 2015

August 25, 2015

(1 Comment)

June 15, 2015

June 2, 2015

May 20, 2015

May 8, 2015
Blog Categories
Our Writers
Blog Archives