ATTENTION, Anastasians!!! Big news about the Big Fifty Shades Film Sequel next spring: Fifty Shades Darker (set for a Feb 10, 2017 release) is filming in Vancouver AS WE SPEAK, and a sneak-peek trailer is now available, according to Heavy.com.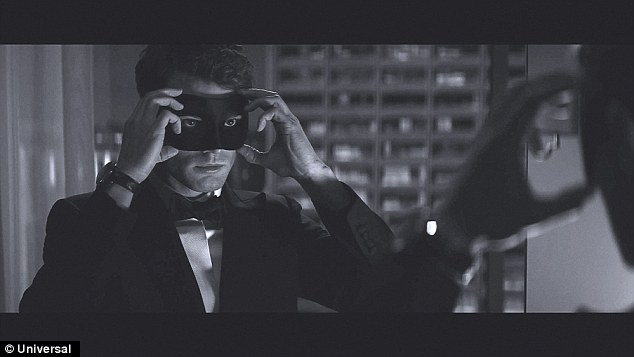 (Image: Universal)
Word on the street---er, from Heavy.com---is that Kim Basinger is signed to play Elena ("Mrs. Robinson") Lincoln in Fifty Shades Darker, with Bella Heathcoate playing ex-Christian submissive (and current Ana-stalker) Leila Williams.
But First Things First: Heavy.com reports that during a scene filmed on March 16th, Christian (okay: Jamie Dornan) poured some red wine that he and Anastasia (Dakota Johnson) talked over, proving once again that wine is a BIG part of this movie and book series.
Care to join in? Try a glass of Red Satin or White Silk today!

RELAX, my darling Anastasians, and DO take a moment to still your palpitating hearts: a new Fifty Shades of Grey Red has NOT been released without your knowledge!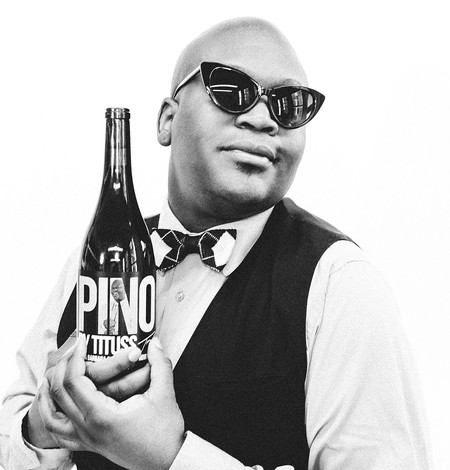 (Image: Popsugar.com)
Instead, Popsugar reports that Tituss Burgess (who plays aspiring Broadway star Titus Andromedon on Netflix's Unbreakable Kimmy Schmidt) is releasing his own wine, Pinot by Tituss, on March 14th.
Kimmy Schmidt fans will fondly remember Tituss' self-filmed Peeno Noir music video, and Popsugar muses: "We have to say. . . we have yet to see how this red fares against the Fifty Shades of Grey wine."
Challenge accepted, Popsugar! We know there's room for more than one outstanding DVD Diva Red on the shelves this Spring!
Try a glass of Fifty Shades of Grey Red Satin Wine today!

Alas, lovely Anastasians!!! Word holds that "Fifty Shades Darker"--the sequel to last year's smash "Fifty Shades of Grey" film--won't be released in theaters until NEXT Valentine's Day, which really throws a kink into a girl's V-Day weekend plans this year.
(Image: Reuters)
Christian and Ana, taking a year off.
Never fear, dears: IBT.com has come to the rescue with a compilation of deliciously decadent, Fifty Shades of Grey-themed gifts guaranteed to give their recipients a very good time this Valentine's Day, featuring Fifty Shades Of Grey wine in both red and white (perhaps in an "I Don't Do Vanilla" wineglass?).
Maybe with some wine and cookies, this won't be such a long year to wait, after all...

Fifty Shades of Grey Wine is now available in Denmark direct from www.fiftyshadeswine.dk.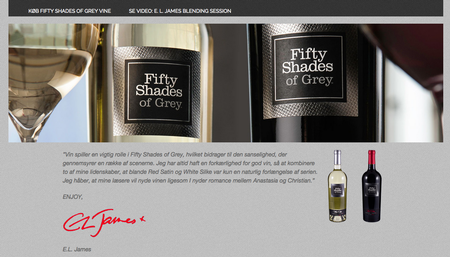 Just in time for the holidays—place your order now!

Huge, Fantastic FSG Wine News!!!
Please hit pause on your latest viewing of the Fifty Shades of Grey DVD, we promise this is worth it: Wine critic extraordinaire James Suckling (formerly of Wine Spectator magazine) has just given FSG Red Satin a score of 90 on JamesSuckling.com!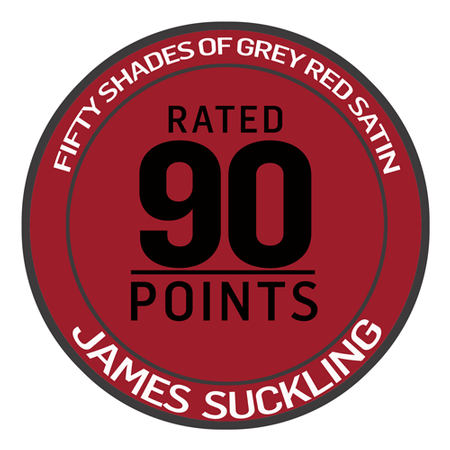 The grooviness continues with Mr. Suckling's tasting notes: "A delicious blend of syrah and petite sirah that delivers plenty of fruit and a spicy, rich finish. Round and delicous. Drink now."
(Blush)
We couldn't agree more.
Mr. Suckling also dropped some love onto "Fun and drinkable" FSG White Silk, bestowing a lovely score of 88.
Thank you, JamesSuckling.com!
And now--back to the movie!!!

Save The Date!!!
Just when a girl thought there was nothing new to read while sipping Fifty Shades of Grey Red Satin (or White Silk) in her slinkies, Mr. Grey saves the day by making us privy to his innermost mood swings this June 18th with the release of E L James' Grey: Fifty Shades of Grey as Told by Christian.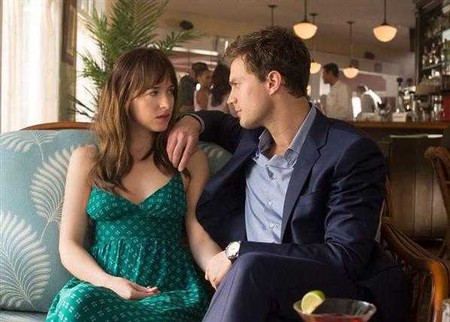 "I have...thoughts and stuff, Anastasia."
(Image: Cosmopolitan Magazine)
Cosmopolitan has already picked their top 10 Scenes From "Fifty Shades of Grey" That Are Begging to Be Retold From Christian's POV: Which are yours??!
Hmmm. Better open another bottle, making this list could take some time...

Monthly sex bible Cosmopolitan magazine compiles the components of a Great Night In, featuring Fifty Shades of Grey Wine!!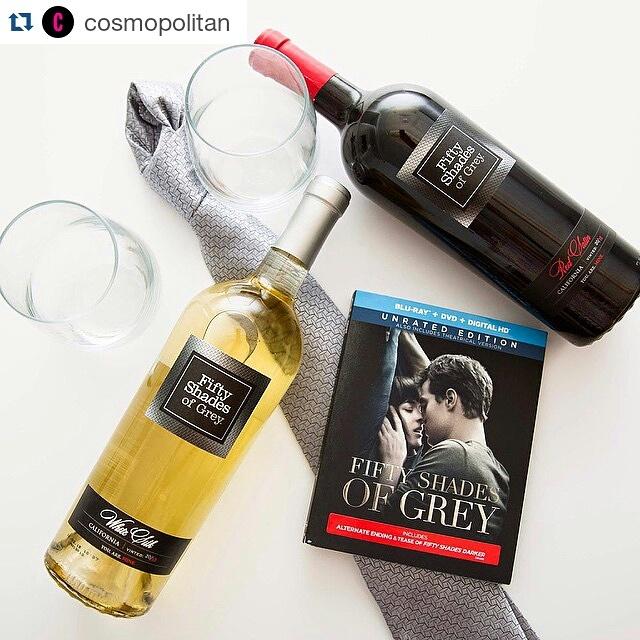 (Image: @Cosmopolitan Via Instagram.)
You probably already have the glasses and tie; to get the wine, and a little --VERY little-- something for YOU to wear, go here:

The Fifty Shades of Grey 2012 Red Satin and 2013 White Silk both brought home silver medals from San Diego's 2015 Winemaker Challenge International Wine Competition this spring. All wines submitted to this competition are judged by teams of professional winemakers, giving extra pizzaz & street cred to the 88 points awarded to each of the FSG wines.
Bravo, Fifty Shades of Grey Wine!! Get a taste of the medal winners, here.

It's fitting that a Seattle jewelry designer (Lisa Richardt) crafted the horseshoe necklace Dakota Johnson favors as Anastasia Steele in the Fifty Shades of Grey film--it's an inadvertent local touch added by the film's costume designer, who purchased the piece at a West Hollywood boutique.
Anastasia wonders if Christian will spring for the matching earrings.

(Image: Universal Pictures / Show Pony / Veronica & Harold)
Seattle Refined reports that Richardt's business, Veronica & Harold, has seen a surge of orders since the film came out. "I haven't figured out how to keep up with production, especially because I make every single piece myself," Richardt said.
Ah, today is indeed our lucky day: FSOG in our DVD player, FSOG in our wine glass, and now a little piece of FSOG around our...neck.
Couldn't.
Ask for.
More.
Laters, baby!!

Fine wine connoisseur Tom Leykis clinks a few glasses with Mark Beaman and Fifty Shades of Grey Film Producer Dana Brunetti in his Tasting Room podcast.
Beaman recounts the creative process behind the unique blends of Fifty Shades of Grey wines, and reveals how Petite Sirah adds a snap of "wildness" to the Red Satin's smooth flavor.
Fifty Shades of Fun: Dana Brunetti, Mark Beaman and Tom Leykis wait for a refill

@TomLeykisTheTastingRoom
Flavor Verdict
Leykis praises the complexity of both White Silk and Red Satin (while saving room for the 100% Petite Sirah Beaman brought him to sample later) and gets Beaman and Brunetti to dish about tasting wine in a hotel room with E L James (apparently spit cups were provided, but--spoiler alert!--none were used!). Beaman also provides a colorful and insightful history of Mendocino Winery and the Central Valley, spotlighting its wealth of varietals.
Beaman and Brunetti announce the Fifty Shades line's arrival in the U.K. and Europe (!!), and their hope that demand for the wines will continue far beyond the release of the next two films.
All in all, a delectable and informative half-hour that sounds like good friends chatting over a great bottle of wine, and reminds us that there are two more FSOG films to look forward to!! Hand us that corkscrew...
About FIFTY SHADES OF GREY WINE
Fifty Shades of Grey Wine is inspired by the seductive relationship between Anastasia Steele and Christian Grey in the hit series Fifty Shades of Grey. The collection includes Red Satin and White Silk, sure to send your taste buds on a thrilling adventure. Personally crafted by world famous author E L James, the Fifty Shades of Grey Wine Collection is a perfect blend of naughty and nice.
News
Recent Posts
March 17, 2016

March 5, 2016

February 11, 2016

February 2, 2016

October 14, 2015

August 25, 2015

(1 Comment)

June 15, 2015

June 2, 2015

May 20, 2015

May 8, 2015
Blog Categories
Our Writers
Blog Archives