January 21, 2015 | In the News | Fifty Shades of Grey Wine
'Fifty Shades of Grey'-Inspired Wine Pleasantly Surprises
"Wink, wink. Nudge, nudge," Argus Leader wine reviewer, Heather Boysen, is "pleasantly surprised by" Fifty Shades of Grey Wine.
"With a little research I found that author E.L. James is not only a wine aficionado but also participated in the blending of the wines herself with Tim Thornhill owner of the Mendocino Wine Company and winemaker Mark Beaman, " Boysen says, continuing, ".... One might ask if she considers wine her guilty pleasure much like many of her readers consider her books?"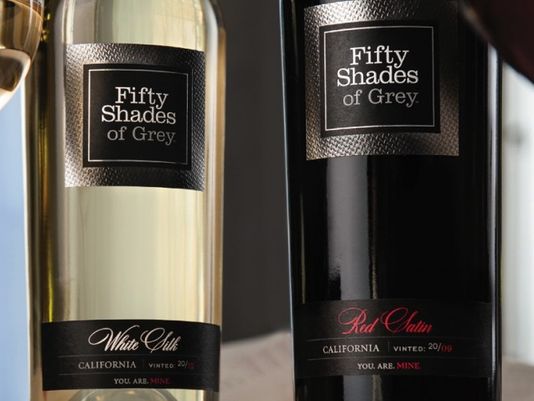 Crafted with longevity in mind
Boysen describes the Fifty Shades of Grey White Silk as, "an easy drinking medium sweet white that would be great with Asian or spicy food but is just fine on its own," and the Fifty Shades of Grey Red Satin as a wine with "a lot going on." If you are one of the few who haven't read the Fifty Shades of Grey books yet, Boysen recommends pairing Fifty Shades of Grey Wine with your experience of the best-selling series, "I believe [Fifty Shades of Grey Wines] were crafted with longevity."
>> Read the full review
>> Shop the collection
About FIFTY SHADES OF GREY WINE
Fifty Shades of Grey Wine is inspired by the seductive relationship between Anastasia Steele and Christian Grey in the hit series Fifty Shades of Grey. The collection includes Red Satin and White Silk, sure to send your taste buds on a thrilling adventure. Personally crafted by world famous author E L James, the Fifty Shades of Grey Wine Collection is a perfect blend of naughty and nice.
Comments
Commenting has been turned off.
News
Recent Posts
March 17, 2016

March 5, 2016

February 11, 2016

February 2, 2016

October 14, 2015

August 25, 2015

(1 Comment)

June 15, 2015

June 2, 2015

May 20, 2015

May 8, 2015
Blog Categories
Our Writers
Blog Archives