January 26, 2015 | In the News, International | Fifty Shades of Grey Wine
Fifty Shades of Grey Wine Red Satin Available in Canada
Fifty Shades of Grey Wine Red Satin will be available for sale in over 400 Société des alcools du Québec (SAQ) liquor stores beginning January 22, 2015. The retail launch follows an enormously successful online pre-sale on January 10, 2015 which sold over 400 cases Fifty Shades of Grey Wine Red Satin, a decadent red blend of Petite Sirah and Syrah with flavors of black cherry, cocoa powder, creamy caramel and vanilla, leather and clove spice.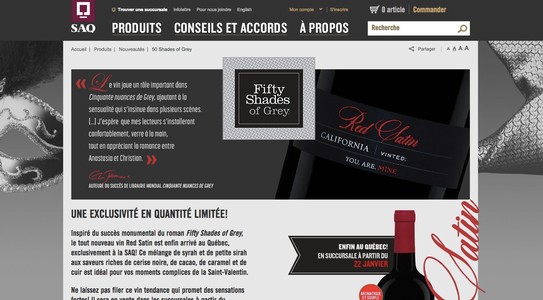 SAQ is the exclusive Canadian retailer featuring Fifty Shades of Grey Wine. Visit www.saq.com to locate favorite shops near you. Plans to expand the Canadian market will be announced in Spring 2015. Keep up with the latest Fifty Shades of Grey Wine news on our dedicated Facebook page: Fifty Shades of Grey - Vins/Wines - Canada
About FIFTY SHADES OF GREY WINE
Fifty Shades of Grey Wine is inspired by the seductive relationship between Anastasia Steele and Christian Grey in the hit series Fifty Shades of Grey. The collection includes Red Satin and White Silk, sure to send your taste buds on a thrilling adventure. Personally crafted by world famous author E L James, the Fifty Shades of Grey Wine Collection is a perfect blend of naughty and nice.

Comments
Paloma León
@ Feb 9, 2015 at 7:01 AM
Fifty Shades of Grey will be a sucess! I can't wait for the premiere! Do you know that Christian Grey's Apartment are decorate with furniture pieces from some luxury brands? Have you heard about KOKET, Boca do Lobo, Brabbu and DelightFULL?
You can find more information here: http://roomdecorideas.eu/dining-rooms/50-shades-of-grey-get-the-best-inspiration-ideas-from-christian-greys-apartment/
xoxo
Muscle rev Xtreme
@ Mar 12, 2015 at 11:52 PM
Really satisfactory post. I simply staggered on high your web log and fundamental to say that I get amazingly delighted in yearly your web log posts. Any approach i will have the capacity to be subscribing to your expand which i achievement you parade an alternate time a little while later.
News
Recent Posts
March 17, 2016

March 5, 2016

February 11, 2016

February 2, 2016

October 14, 2015

August 25, 2015

(1 Comment)

June 15, 2015

June 2, 2015

May 20, 2015

May 8, 2015
Blog Categories
Our Writers
Blog Archives